Purity, sustainability, appreciation for life, and locally sourced ingredients, are the four indicators that make up Yang Ming Spring Five Arts Creative Park's brand mission. November 2022, the brand launched its new menu- Michelin Green Star Menu.
Local ingredients
Ingredients are fully sourced from Taiwan. We use Ji'an township No. 16 rice, which combines natural farming with traditional fermentation techniques. It is used to make our lemon sherbet drink.
We make our vegetable broth using organic sprouts from Yang Ming mountains and high altitude vegetables and fruits. 100% Taiwan mushrooms are dried, then ground into fine powder to make vitamin D filled mushroom seasoning.
To create an eco-friendly supply and demand chain, Yang Ming spring uses as many local ingredients as possible and supports fair trade.
Purity
We uphold our food quality by minimizing food additives, while making sure that our ingredients are non-GMO and compliant to agricultural chemical residue regulations. We uphold the principle of purity as our responsibility to the community.
Sustainability
We cherish food deeply, which is why the amount of each dish is calculated to reduce leftovers. The scraps from our vegetable broth and leftovers are handed over to recycling companies, turning these ingredients into recycled agricultural fertilizers.
The restaurant uses large floor-to-ceiling windows which let in natural light. We also use an air-conditioning system divided into zones to reduce power consumption.
We plant trees in our park to afforest the environment and we avoid building artificial structures. Furthermore, we do not use any environment harming chemicals, such as pesticides and herbicides. Yang Ming Spring respects the ecosystem and looks out for our planet.
Appreciation for life
Mother earth's resources and energy provide us with vibrant and lively food, which in turn awakens our appreciation for life. We hope to inspire understanding towards sustainability through our new menu. By encouraging the plant-based diet, we hope to look beyond the facade to draw attention to the essence. By respecting life, we spread meaning and joy.
About the menu
Food is not merely a way to satisfy hunger. From the perspective of human civilization, it carries intellectual ideas and culture. It is closely linked to the natural conditions, cultural customs, and social etiquettes.
Rice in Taiwan is equal to grains in the West.
We can divide Taiwan's rice by its textural properties: japonica rice, indica rice and glutinous rice.
Japonica rice, also known as Penglai rice, is transparent, round and short.
Indica rice can be divided into soft and hard indica. Hard indica is commonly known as Zailai rice, which is mainly used as a processed ingredient. Soft indica is transparent and slender, tasting similarly to japonica rice. Glutinous rice is divided into the short japonica glutinous rice and the long and thin indica glutinous rice. The former is used to make glutinous rice balls, red glutinous cakes, and the latter mostly used to make steamed glutinous rice, zongzi, etc.
Yang Ming Spring uses Taiwan No. 16 rice, which comes from Hualien and Taitung- the most well known rice production area of the east coast.
Tea
The alpine oolong cold-brewed tea from Lishan, coming from an altitude of 2400 meters, won the "Gold Award" in the World Tea industry Competition of Taiwan's "manor level" Huagang tea factory.
Soup
This Michelin soup uses green pea and seaweed as the base. The greens surrounding the plate are eye-catching like emeralds. It is rich in protein, stimulates the appetite and warms the heart!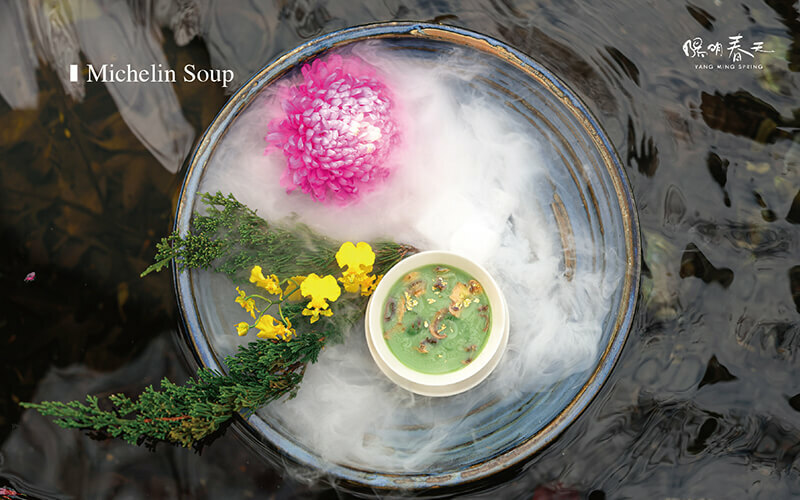 Hors d'oeuvre
Ingredients may vary seasonally
Designed based on our four indicators of purity, sustainability, appreciation for life, and locally sourced ingredients. Using food as a medium to showcase the essence of all things. Welcoming our guests with this pure energy from earth.
Appetizer
Golden Sesame
The outer layer is made of pumpkin purée and tofu "brain". The bottom layer is chestnuts and sweet potatoes, which is the perfect amount of sweetness. The filling is made with plant-based cheese and coconut milk, which gives it a custard lava texture.
Main
Imperial Lion's Mane Mushroom with Bailing Mushroom
Including lion's mane with romesco sauce and bailing mushroom with tea salt.
The signature lion's mane mushroom is topped with romesco sauce, paired with morel mushrooms and perilla leaves, which creates a dish combining the east and west.
Bailing mushrooms are white in color, big and plump, shaped similarly to Lingzhi. Rich in 17 kinds of amino acids and other nutrients, it is known as "the porcini of the grasslands". Bailing mushroom is served with tea salt, lemon olive oil and organic sprouts. As it is not overly seasoned, you can experience its original beauty.
Palate cleanser
Lemon Sherbet
Fermented with Taiwan No.16 rice. Lemon Sherbet combines natural farming with traditional fermentation techniques, making for a wonderful palate cleanser.
Second main
Green bean and Rice infused Morels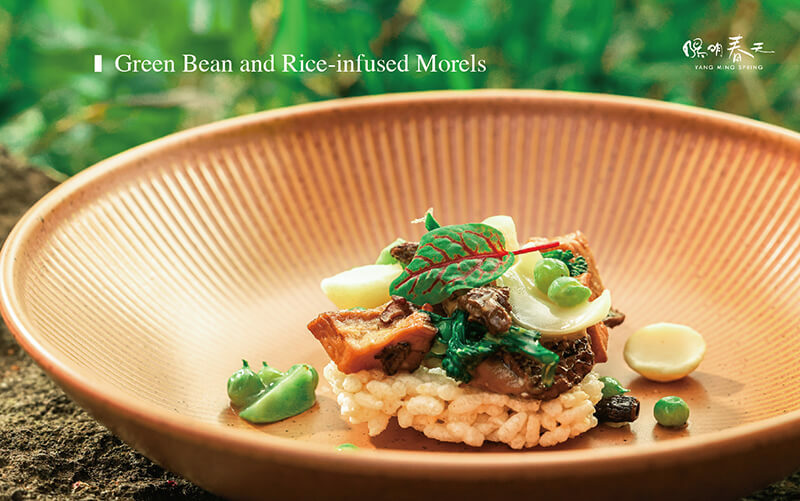 Morel mushrooms are high in nutritional values. Including 18 kinds of amino acids the human body needs, as well as protein, vitamin B1, vitamin B2, pantothenic acid, folic acid, etc.
The koji made with fermented Taigen No. 16 rice brings out the natural flavors of morels.
Hand Roll
Hand Rolled Grilled Scallops
We use local grilled king oyster mushrooms, paired with belvedere fruit and chervil leaves to showcase the flavors of mountains and forests. Served with balsamic vinegar and salt-roasted seaweed seasoned with homemade nut butter.
Sushi
Double Nigiri Sushi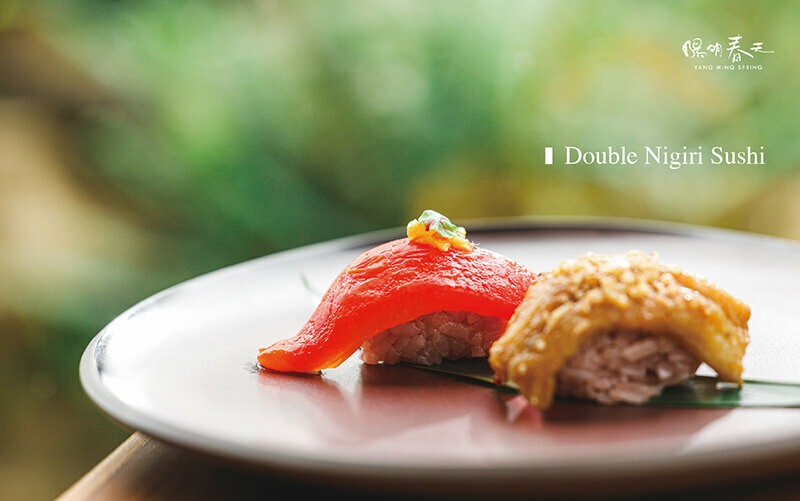 Vinegar rice dish made with Hualien red quinoa, perilla plums and Taitung Chishang fragrant rice.
Our Michelin Green Star menu uses carefully selected local ingredients and avoids over-processing and excessive seasoning. In accordance with holistic health, we believe in eating foods according to the seasons. The wonderful taste of the food can be enjoyed as it is. Through plant-based foods, we bring awareness to environmental sustainability and carry on the mission of sustainability by transcending sensory pleasures.
[延伸閱讀]